Air Personalities
Morning Shows
News Guys
Money Girls
Program Directors
General Managers
Sales Types
Engineers
Other Alumni
The Good Guys Today
Radio Heaven
Alumni In The News
Alumni Speak!


A Brief History
Newspaper Articles
Print Advertisements
Press Releases
Ratings Like You Wish!
Weekly Playlists
Photos - People
Photos - Promotions
Station Logos
Bumperstickers




Airchecks
Newscasts
Sports Reports
Traffic Reports
Sound Offs!
Commercials
Promos
Sweepers
Jingles
Misc. Audio




Beatlemania
Collectibles
Contesting
Promotions
Sales Related
Engineering Stuff
WPGC Sister Stations
The Great Strike
Market Competition
Other Radio Tribute Sites
Oldies Stations Today
Legendary Air Performers
Special Thanks
Mailbag
Home

---
Server space provided by:
Click above to hear more vintage broadcast radio airchecks from the
Reel Radio Repository.
Your tax-deductible contribution to REELRADIO, Inc. will help keep this site online
---
This site is in no way affiliated with WPGC Radio today, or with
CBS Radio, Inc.

Click above to visit WPGC today.

Dedicated in memory of
Jim Collins
Jerry G did mornings from 1961-63
Special thanks to Dean Griffith (Dean Anthony) for the below.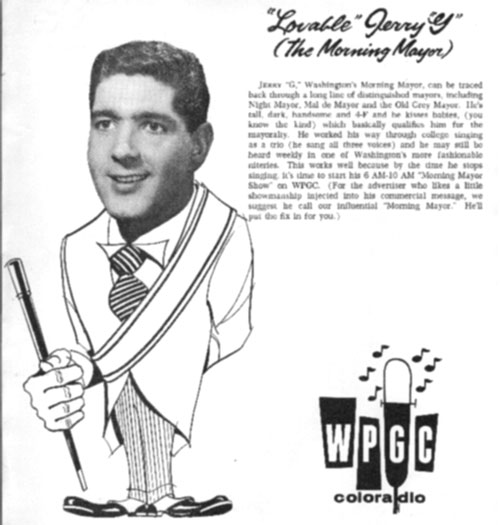 Read more on Jerry G.
Text reads:
Jerry "G", Washington's Morning Mayor, can be traced back through a long line of distinguished mayors, including, including Night Mayor, Mal de Mayor and the Old Grey Mayor. He's tall, dark, handsome and 4-F and he kisses babies, (you know the kind) which basically qualifies him for the mayoralty. He woked his way through college singing as a trio (he sang all three voices) and he may still be heard weekly in one of Washington's more fashionable niteries. This works well because by the time he stops singing, it's time to start his 6AM - 10 AM "Morning Mayor Show" on WPGC. (For the advertiser who likes a little showmanship injected into his commercial message, we suggest he call our influential "Morning Mayor". He'll put the fix in for you).
David B. Simmons did morning news in 1962

Special thanks to Dean Griffith (Dean Anthony) for the below.

Read more on David B. Simmons.

Text reads:

David B. Simmons was a familiar figure around the State House in Nashville during his first news reporting job for a Jackson, Tennessee station. Today, nearly ten years later, Mr. Simmons is just as familiar on the steps of another Capitol...located on Pennsylvania Avenue in Washington, D.C. His direct, concise analysis of each day's events is personified with a straightforward, appealing delivery that makes each news story "come alive". In a sometimes frustrating and confusing World, Mr. Simmons directs a news staff, gathering the eyewitness accounts of the day, that gives you the straight, fast, factual reporting that keeps you up to date. Most people hear the news first on radio. Most people who like 'live' news, listen to David B. Simmons on WPGC.

Larry Justice did middays in 1962-63

Special thanks to Dean Griffith (Dean Anthony) for the below.

Read more on Larry Justice.

Text reads:

'A man who thinks on his feet. Bare. If the University of Arkansas couldn't get shoes on him, we won't try. When he took his Army shoes off, it felt so good he never put another pair on. Says he can think better. Something about circulation. Thousands of housewives in suburbia seem to agree with him. Larry joins them daily, 10AM-2PM, for coffee, the make the beds and clean the dirty kitchen. Barefoot. The barefoot housewives league has become cause for great concern among the nation's leading footwear manufacturers. (Advertisers who wish to reach a large, comfortable, adult women's audience, may do so by contacting Larry Justice at JO8-6677.) (Not recommended for shoes stores).'
Dean Griffith did afternoons & was PD from 1960-64

Special thanks to Dean Griffith (Dean Anthony) for the below.

Read more on Dean Griffith.

Text reads:

Big Ol', Fat Ol' Dino, Mr. Metrecal himself. The grand ol', jolly ol' fat man of radio. From his specially constructed, steel-supported studio, Dean rolls forth daily from 2 PM 'til 6 PM on WPGC...all 369 pounds of him. Everybody loves a fat man. Especially the 11,000 registered members of his "Off-Key Singing club", a rather large group of tone-deaf devotees who fervently advocate that the melody doesn't make the song. Advertisers love the fat man too. His sincere, commercial delivery on the air is as big as he is (For big results, call the big man at the big station. Big Ol', Fat Ol', Dino. WPGC.)
Don Reese did evenings till sign-off in 1961-62

Special thanks to Dean Griffith (Dean Anthony) for the below.

Read more on Don Reese.

Text reads:

One of the most frequent complaints issued by the All-Star baseball player, Pee Wee Reese is that every time he's introduced to someone, they ask, "Oh, are you related to that World famous Pee Wee Reese that announces on the radio?" This is naturally very discouraging to a fine ball player such as Reese but it will be comforting for him to know that our Pee Wee Reese only batted .047 in the Little League last year. He swings much better on the air than he does at the plate, where he bats around .980 for the advertisers on his show. And unlike most ball players, Pee Wee is not under contract to any one outfit nor is he a bonus baby. (The rates are low on his show and he's available to all quality advertisers. If you want to hear a warm-up pitch for your product, call Pee Wee today at JO 8-6677).

Harv Moore did mornings from 1963-75

Read more on Harv Moore.

Text Reads:

Heard 6-10AM Monday thru Saturday

If most of the Washington Metropolitan area is smiling as it plods out the front door to start another day of work, school or shopping, it's due in a large part to Harv Moore. His lively wake up show, and side kicks PRONTO, faithful Indian companion, and ORVILLE, squeaky voiced, wise cracking helper, are enough to get anyone chuckling.

A graduate of Pelham, New York's public schools and Boston University, Harv's professional training came after college when he worked as a page at NBC.

Harv joined WPGC and took over as "The Morning Mayor of Washington" in 1963.

Couple Harv's professionalism - his inimitable humor - his lacing of time, temperature, weather, sports, traffic and news items - and you have a big reason why Washington DC starts the day with a smile at WPGC.

Bob Raleigh did nights & later, morning news 1966-77

Read more on Bob Raleigh (Bill Miller).

Text Reads:

No news is bad news to Bob Raleigh, Senior. He likes it best when things are really popping on the local, national and sports scenes. Bob is equally at home interviewing a U.S. Senator or a Washington Senator.

Bob is what you might consider a "triple-threat" news man...he is equally adept at gathering, writing and delivering the news. He's also won plaudits in getting unique and interesting "actualities" which spice up his news program.

Joining WPGC in 1965, Bob has an interesting and varied broadcast background which includes practically every phase of programming.

His hobbies include baseball, model railroading...and he's a voracious reader which always keeps him on top of the news.

'big' Wilson did afternoons & was PD from 1969-72

Read more on 'big' Wilson.

Text Reads:

Heard 3-7PM Monday through Saturday

BIG WILSON is exactly what his name indicates -- BIG...He has a BIG personality, a BIG voice...he has BIG savvy and a BIG heart...and naturally he comes from TEXAS!

Although young in age, he's a radio veteran and frequently holds down a dual role of program personality and program executive. His assignments have run the gamut of emceeing a Beatles Concert to the wacky way-out prrogramming of a station with the unlikely call letters of WZOO.

"Big" is crazy about working with youngsters in civic group activities, he's an avid sports fan (frequently coaches Little League baseball), and he also fancies himself as a food connoisseur.

"Big" Wilson fills "the afternoon drive slot" on WPGC. Yesiree, Texas this BIG man does one BIG job in this BIG town!

Davy Jones did nights from 1968-1971

Read more on Davy Jones.

Text Reads:

Heard 7-11PM Monday through Friday

12-6PM Sunday

Out of his locker at the bottom of the sea each nite floats Davy Jones to bring his sea-faring listeners the craziest fish stories you ever heard! Can you "fathom" that?

Well, Davy Jones may not exactly tell fish stories but his show is known as the zaniest on the East Coast and is equally popular among men, women, teens and kippered herring.

Jones' show is no drag but his main hobby is. He is always entering his "Vette" at area drag strips. He also likes to work with young people and contributes much of his free time assisting local police departments in fighting drug abuse.

Davey's really pleased when auditioning new records and working with music generally...'cause he loves it. It's not too hard to discern that when you listen to his show.

Waylon Richards did nights from 1977-82

Read more on Waylon Richards.

Text Reads:

If you do your homework between 9PM and 1AM or are just loafing around, you probably are going to have your stereo or radio on....I know that I do!

The other night I was doing just that, when I started wondering what the guy behind the microphone was like. I was listening to WPGC and Waylon Richards. I decided to call him and ask some questions. After some initial interruptions because of running contests and the like, Waylon was quite easy to talk to.

"Everyone likes the Eagles, Zepplin, Stones and Beatles! That's why I guess I listen to 'PGC even when I'm not at the studio. I can't win (the many contests on WPGC) but, to me, the music can't be beat...."

I found out later that Waylon is originally from Cleveland, Ohio. "Ohio is a great place" he says, "but Washington is my home now."

Waylon has been a disc jockey for 8 years, and has put in his dues. "My first job in radio was in Kentucky in a town that was so small that if four or more people got together it was a headline story for the papers!" Waylon worked in California for 2 1/2 years, then Omaha, Tulsa, Kansas City, Dallas, San Antonio, Cleveland and now Washington.

"I don't really know where I liked it the most. California was great, but D.C. is interesting, too."

You can hear Waylon Richards sometimes speaking of tennis on the air. "That's one of my favorite pastimes...but I like all sports." He also enjoys looking for Civil War relics, football and basketball, besides rebuilding and restoring antique automobiles. WPGC's Waylon Richards is in his mid-20's, 5'10" tall, brown hair, eyes and a beard...and, like most of us, enjoys wearing jeans and T-shirts. Waylon is part of Washington's favorite radio station...WPGC.

Others are:

Waylon mentions that WPGC (1580AM-95FM) plans to give away some fantastic prizes in just a couple of weeks and suggests that everyone listen on Friday nights for the scores of their high school team. Waylon Richards, in all, seems very dedicated to his field of work, and enjoyable to talk to. He is the man behind the microphone.

Small Print Dept.: This non-profit historical site is not affiliated in any way with WPGC Radio today or CBS Radio, Inc. Use of copyrighted material is consistent with the "fair use" provisions contained in §107 of the Copyright Act of 1976 due to the following characteristics: Use of copyrighted material is of a nonprofit, educational nature, intended for the sole purposes of research and comment and does not significantly negatively affect "the potential market for or value of the copyrighted work(s)." Use of registered trademark material is not subject to civil action or injunction as outlined in §1114 and §1125 of the Trademark Act of 1946 (the Lanham Act) due to the following characteristics of this work, and the registered marks published herein: Use of reproductions of registered marks is not for the purpose of commerce, nor is the use connected with the sale, offering for sale, or advertising of any goods or services. Use of reproductions is not likely to cause confusion, mistake, or deception as to the affiliation, connection, or association of this work with owners of published registered marks, nor as to the origin, sponsorship, or approval of this work by owners of published registered marks. Wherever possible, the copyright or registered mark owner's name has been noted near the copyrighted work or registered mark; however, all material used in this site, including, but not limited to, newspaper articles, syndicated themes, promos, commercials, photographs, playlists, press releases, ratings, airchecks, newscasts, traffic reports, sports reports, 'sound-offs', sweepers, bumperstickers and station logos, should be considered protected copyrighted material or registered mark with all rights reserved to the owner, named or unnamed. So there!