Air Personalities
Morning Shows
News Guys
Money Girls
Program Directors
General Managers
Sales Types
Engineers
Other Alumni
The Good Guys Today
Radio Heaven
Alumni In The News
Alumni Speak!


A Brief History
Newspaper Articles
Print Advertisements
Press Releases
Ratings Like You Wish!
Weekly Playlists
Photos - People
Photos - Promotions
Station Logos
Bumperstickers




Airchecks
Newscasts
Sports Reports
Traffic Reports
Sound Offs!
Commercials
Promos
Sweepers
Jingles
Misc. Audio




Beatlemania
Collectibles
Contesting
Promotions
Sales Related
Engineering Stuff
WPGC Sister Stations
The Great Strike
Market Competition
Other Radio Tribute Sites
Oldies Stations Today
Legendary Air Performers
Special Thanks
Mailbag
Home

---
Server space provided by:
Click above to hear more vintage broadcast radio airchecks from the
Reel Radio Repository.
Your tax-deductible contribution to REELRADIO, Inc. will help keep this site online
---
This site is in no way affiliated with WPGC Radio today, or with
CBS Radio, Inc.

Click above to visit WPGC today.

Dedicated in memory of
Jim Collins
Kevin did overnights at WPGC in 1975-76. Today, he can be heard on stations nationally with his syndicated 'Slow Jams' show, including WHUR.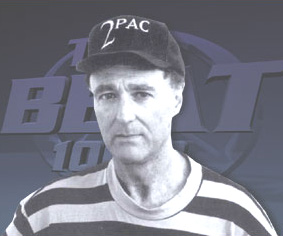 Kevin James today.
Kevin James writes:
My memory on those WPGC days isn't the greatest but I'll do my best. I believe I was there from 1975 to 1976. I had started in radio at WFMD in Frederick, MD. Those were my beginning days of radio. I do not have an aircheck. I probably would be real embarrassed if I had one to listen to.

Jim Collins was PD. I remember him and the WPGC basketball games. He would dress up like a clown and get a pie in the face, etc. Glenn Potter was GM.

My greatest experience was meeting Ted Davita. Ted was a young boy at NIH with a rare blood disease, a plastic anemia (not sure of that spelling). He became one of my best friends. I visited him every week and he called me every night. His father was Director of the Cancer Institute. Do you remember the TV movie "Boy In A Plastic Bubble"? Most of that story was based on Ted including going to concerts at the Cap Centre in my van and him wearing his NASA designed space suit. He died at the age of 17.

Harv Moore was the morning man, Then it was Columbus, to do mornings, Bob Raleigh (Bill Miller) did news, Jim Collins in afternoon drive, Dan Steele at night, and Dave Kellogg 10p-2a. I did 2am to 6am.

That's as far as my memory takes me. One side note. I fell asleep while reading the news @ 3:40am. That might be a radio first and last.
Keith MacDonald writes:
Seems Kevin was single, and he and his dog Wilbur lived mostly out of his van. So Kevin ran most of his social life out of the control room. If someone called in the middle of the night who sounded interesting, he'd invite them to breakfast. He once told me you can invite anyone to breakfast... then if he was still interested he could invite her to dinner and a movie or whatever.

But Kevin didn't know when to quit. Some days he had a date for breakfast, another for lunch, and yet another for dinner and a movie... and well, he'd return to the station two hours before his shift, without any sleep at all. He'd ask me to tell everyone he wasn't there... then he'd fall asleep standing up, leaning against the cart racks in the back of the control room. Never met anyone before or since who could do that... but Kevin claims he still can.

Anyway one night this girl calls...and she hims and haws around and asks me how well I know Kevin, and will I answer a personal question about him. So I asked her what she wanted to know... She says "Is Kevin gay?" I nearly busted out laughing. "What makes you think Kevin might be gay" I said. Her reply was priceless.... "Well whenever Kevin comes over for dinner, I want to, you know, mess around, and all he wants to do is sleep". If she had any idea!
Photos
Print Materials
Playlists
Click on thumbnails below to see enlargement.
Sound Files
Jingles
(Special thanks to Jonathon Wolfert for the above)

Small Print Dept.: This non-profit historical site is not affiliated in any way with WPGC Radio today or CBS Radio, Inc. Use of copyrighted material is consistent with the "fair use" provisions contained in §107 of the Copyright Act of 1976 due to the following characteristics: Use of copyrighted material is of a nonprofit, educational nature, intended for the sole purposes of research and comment and does not significantly negatively affect "the potential market for or value of the copyrighted work(s)." Use of registered trademark material is not subject to civil action or injunction as outlined in §1114 and §1125 of the Trademark Act of 1946 (the Lanham Act) due to the following characteristics of this work, and the registered marks published herein: Use of reproductions of registered marks is not for the purpose of commerce, nor is the use connected with the sale, offering for sale, or advertising of any goods or services. Use of reproductions is not likely to cause confusion, mistake, or deception as to the affiliation, connection, or association of this work with owners of published registered marks, nor as to the origin, sponsorship, or approval of this work by owners of published registered marks. Wherever possible, the copyright or registered mark owner's name has been noted near the copyrighted work or registered mark; however, all material used in this site, including, but not limited to, newspaper articles, syndicated themes, promos, commercials, photographs, playlists, press releases, ratings, airchecks, newscasts, traffic reports, sports reports, 'sound-offs', sweepers, bumperstickers and station logos, should be considered protected copyrighted material or registered mark with all rights reserved to the owner, named or unnamed. So there!