Air Personalities
Morning Shows
News Guys
Money Girls
Program Directors
General Managers
Sales Types
Engineers
Other Alumni
The Good Guys Today
Radio Heaven
Alumni In The News
Alumni Speak!


A Brief History
Newspaper Articles
Print Advertisements
Press Releases
Ratings Like You Wish!
Weekly Playlists
Photos - People
Photos - Promotions
Station Logos
Bumperstickers




Airchecks
Newscasts
Sports Reports
Traffic Reports
Sound Offs!
Commercials
Promos
Sweepers
Jingles
Misc. Audio




Beatlemania
Collectibles
Contesting
Promotions
Sales Related
Engineering Stuff
WPGC Sister Stations
The Great Strike
Market Competition
Other Radio Tribute Sites
Oldies Stations Today
Legendary Air Performers
Special Thanks
Mailbag
Home

---
Server space provided by:
Click above to hear more vintage broadcast radio airchecks from the
Reel Radio Repository.
Your tax-deductible contribution to REELRADIO, Inc. will help keep this site online
---
This site is in no way affiliated with WPGC Radio today, or with
CBS Radio, Inc.

Click above to visit WPGC today.

Dedicated in memory of
Jim Collins
Don Geronimo got his first job in radio at age 13, at WINX in Rockville. His stellar career thereafter reads like a who's who in the annals of radio history with stops at WOKY / MIlwaukee, 13Q / Pittsburgh, 99X / New York, WCAO / Baltimore, WWDC / Washington, PRO-FM / Providence, WNDE / Indianapolis and WDRQ / Detroit before coming back to DC and WPGC on 03/17/80 where he was brought in by Program Director, Scott Shannon for the first real skirmish with Q107's Uncle Johnny. His impact was immediate and long felt; during his tenure WPGC righted itself and regained the CHR crown in DC.

The war with Q107 was well underway at the time of these airchecks. While mornings were secure with Jim Elliott & Scott Woodside, the real damage had been done at night with fickle teens with no real allegiance flocking to Uncle Johnny. To combat the attrition, Scott Shannon brought in Don Geronimo whose appeal went beyond the acne crowd to young Adults as evidenced by every single phone caller being obviously over the age of 20.

Many of those calls took the form of his 'Not Ready For Nighttime Players' who provided the comic fodder for numerous bits. It was also not uncommon for Shannon or Dave Foxx to call Don from another studio posing as a listener as a set up for further comedy. Dave also voiced the the stagers kicking off 30 Minutes of Continuous Music.

In 1981 Geronimo left for KIIS-FM in LA followed by stops at WLS & B96 / Chicago. Don made his return to the Nation's Capital in 1985 doing afternoons at WAVA then moved to mornings the following year replacing Charlie & Harrigan. By then he had teamed up with Mike O'Meara and the rest is radio history.

Don's wife Freda, a veteran of several Greater DC stations herself including WYRE, WASH and later WAVA as 'Laura Petrie' and on virtually a daily basis on the Don & Mike Show was tragically killed in a head on collision near Ocean City on Sunday, 07/10/05. Warm, witty & wonderful are words that only begin to do her justice.

Don later returned to radio at Sports 1140, KTHK / Sacramento and made his way back to DC at WJFK. Most recently, he hosted mornings on Big 100.
Photos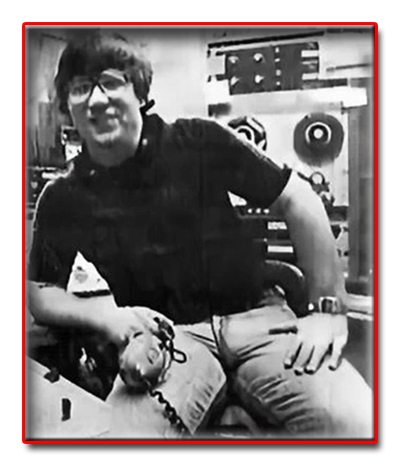 From 1980.
Airchecks
| | | |
| --- | --- | --- |
| | 03/17/80 - First Show | 20:50 |
| | 03/19/80 - Scoped | 28:39 |
| | 03/19/80 - UNscoped | 1:02:20 |
| | 04/15/80 | 9:01 |
| | June 1980 | 4:36 |
| | Fall 1980 | 3:01 |
| | 03/03/81 | 7:23 |
| | 1981 | 2:06 |
| | 07/25/81 | 5:26 |
| | August 1981 | 1:15 |
Contests
| | | | |
| --- | --- | --- | --- |
| | 04/15/80 | World's Easiest Contest | 1:56 |
| | Fall 1980 | Free Music Weekend | 1:13 |
Spots
| | | | |
| --- | --- | --- | --- |
| | 03/19/80 | J.C. Penny's (Live) | :10 |
Miscellaneous Audio
Miscellaneous
Geronimo T-Shirt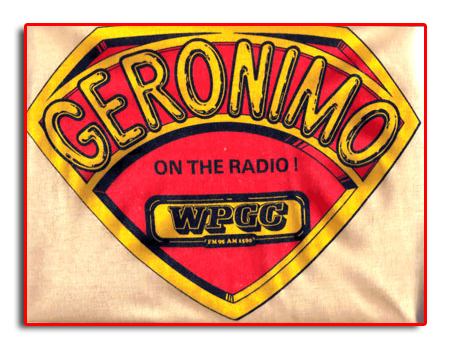 Small Print Dept.: This non-profit historical site is not affiliated in any way with WPGC Radio today or CBS Radio, Inc. Use of copyrighted material is consistent with the "fair use" provisions contained in §107 of the Copyright Act of 1976 due to the following characteristics: Use of copyrighted material is of a nonprofit, educational nature, intended for the sole purposes of research and comment and does not significantly negatively affect "the potential market for or value of the copyrighted work(s)." Use of registered trademark material is not subject to civil action or injunction as outlined in §1114 and §1125 of the Trademark Act of 1946 (the Lanham Act) due to the following characteristics of this work, and the registered marks published herein: Use of reproductions of registered marks is not for the purpose of commerce, nor is the use connected with the sale, offering for sale, or advertising of any goods or services. Use of reproductions is not likely to cause confusion, mistake, or deception as to the affiliation, connection, or association of this work with owners of published registered marks, nor as to the origin, sponsorship, or approval of this work by owners of published registered marks. Wherever possible, the copyright or registered mark owner's name has been noted near the copyrighted work or registered mark; however, all material used in this site, including, but not limited to, newspaper articles, syndicated themes, promos, commercials, photographs, playlists, press releases, ratings, airchecks, newscasts, traffic reports, sports reports, 'sound-offs', sweepers, bumperstickers and station logos, should be considered protected copyrighted material or registered mark with all rights reserved to the owner, named or unnamed. So there!