Air Personalities
Morning Shows
News Guys
Money Girls
Program Directors
General Managers
Sales Types
Engineers
Other Alumni
The Good Guys Today
Radio Heaven
Alumni In The News
Alumni Speak!


A Brief History
Newspaper Articles
Print Advertisements
Press Releases
Ratings Like You Wish!
Weekly Playlists
Photos - People
Photos - Promotions
Station Logos
Bumperstickers




Airchecks
Newscasts
Sports Reports
Traffic Reports
Sound Offs!
Commercials
Promos
Sweepers
Jingles
Misc. Audio




Beatlemania
Collectibles
Contesting
Promotions
Sales Related
Engineering Stuff
WPGC Sister Stations
The Great Strike
Market Competition
Other Radio Tribute Sites
Oldies Stations Today
Legendary Air Performers
Special Thanks
Mailbag
Home

---
Server space provided by:
Click above to hear more vintage broadcast radio airchecks from the
Reel Radio Repository.
Your tax-deductible contribution to REELRADIO, Inc. will help keep this site online
---
This site is in no way affiliated with WPGC Radio today, or with
CBS Radio, Inc.

Click above to visit WPGC today.

Dedicated in memory of
Jim Collins
The Red Head was Harv Moore's on-air sidekick on the morning show. The role was played by at least three different women who portrayed the ditzy but loveable girl Friday.
Harv Moore writes:
The original 'Redhead' was my wife Vicki. She used to read the school lunch menus on my show in '67 and '68. On Sunday night I would tape her reading the NFL scores. She had trouble matching up teams with their nicknames...really screwed 'em up. Fans would call me, and holler at me: "Will you please tell The Redhead that it's not the 'Kansas City Jets!".

I remember Connie Lawn. Nice lady. As she points out, she was at 'PGC for a hot minute in 1969. They kinda threw us together to see if something might work.

Joanie Fierstein came to work for us in 1972 as a receptionist. I started using her on my show doing drop-ins, and then I asked her if she could come in a little early, drive the Money Car on my show, and then come in and be on the show with me. As I got busier in my Program Director's job, I needed a secretary, so Joanie came in at 6, was on the show with me 'til 10, and then was my secretary for the rest of the day.

Fierstein was her married name. When she came to work for us in '72 she was divorced. After I moved to Buffalo, she stayed on at 'PGC for a while, but then they let her go. At one point she considered moving to Buffalo to continue her radio career, but then went to work for NASA where she still works to this day. At some point, she remarried - her last name is now Hoffman and she has a daughter.

Hear Harv Moore on: The Redhead (Joanie Fierstein) - December 1972
Photos
Connie Lawn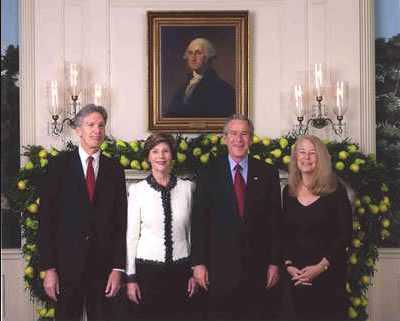 Connie and her husband with President & Mrs. Bush.
Joanie Fierstien
With Phono Phunnies
Contest Winner in 1973

Her Red self in March 1973

With Harv Moore in 1973

In all her Red glory in 1974
Print Materials
Playlists
Joanie Fierstein
Click on thumbnails below to see enlargements.
Print Ads
Joanie Fierstein
Click on images below to see enlargements.
Sales Kit One Sheets
Click on images below to see enlargement.
Sound Files
Airchecks
Joanie Fierstein
Promos
Joanie Fierstein
Misc Audio
Joanie Fierstein
Miscellaneous
From her autobiography, 'You Wake Me Each Morning', © 2000, Connie Lawn:
Money Car
Money Plane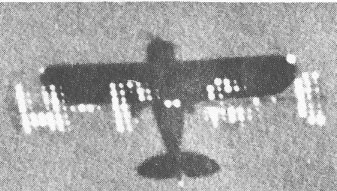 The Money Plane spells it out.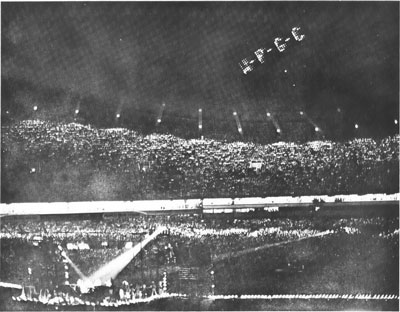 Over RFK Stadium in 1973.

Small Print Dept.: This non-profit historical site is not affiliated in any way with WPGC Radio today or CBS Radio, Inc. Use of copyrighted material is consistent with the "fair use" provisions contained in §107 of the Copyright Act of 1976 due to the following characteristics: Use of copyrighted material is of a nonprofit, educational nature, intended for the sole purposes of research and comment and does not significantly negatively affect "the potential market for or value of the copyrighted work(s)." Use of registered trademark material is not subject to civil action or injunction as outlined in §1114 and §1125 of the Trademark Act of 1946 (the Lanham Act) due to the following characteristics of this work, and the registered marks published herein: Use of reproductions of registered marks is not for the purpose of commerce, nor is the use connected with the sale, offering for sale, or advertising of any goods or services. Use of reproductions is not likely to cause confusion, mistake, or deception as to the affiliation, connection, or association of this work with owners of published registered marks, nor as to the origin, sponsorship, or approval of this work by owners of published registered marks. Wherever possible, the copyright or registered mark owner's name has been noted near the copyrighted work or registered mark; however, all material used in this site, including, but not limited to, newspaper articles, syndicated themes, promos, commercials, photographs, playlists, press releases, ratings, airchecks, newscasts, traffic reports, sports reports, 'sound-offs', sweepers, bumperstickers and station logos, should be considered protected copyrighted material or registered mark with all rights reserved to the owner, named or unnamed. So there!