Air Personalities
Morning Shows
News Guys
Money Girls
Program Directors
General Managers
Sales Types
Engineers
Other Alumni
The Good Guys Today
Radio Heaven
Alumni In The News
Alumni Speak!


A Brief History
Newspaper Articles
Print Advertisements
Press Releases
Ratings Like You Wish!
Weekly Playlists
Photos - People
Photos - Promotions
Station Logos
Bumperstickers




Airchecks
Newscasts
Sports Reports
Traffic Reports
Sound Offs!
Commercials
Promos
Sweepers
Jingles
Misc. Audio




Beatlemania
Collectibles
Contesting
Promotions
Sales Related
Engineering Stuff
WPGC Sister Stations
The Great Strike
Market Competition
Other Radio Tribute Sites
Oldies Stations Today
Legendary Air Performers
Special Thanks
Mailbag
Home

---
Server space provided by:
Click above to hear more vintage broadcast radio airchecks from the
Reel Radio Repository.
Your tax-deductible contribution to REELRADIO, Inc. will help keep this site online
---
This site is in no way affiliated with WPGC Radio today, or with
CBS Radio, Inc.

Click above to visit WPGC today.

Dedicated in memory of
Jim Collins
The bumpersticker promotion was an on-going one, lasting a decade from
1973-1982. Stickers were available at over 300 7-Eleven Stores around metro DC.
Print Materials

The bumperstickers originally had serial numbers on them which were read on air.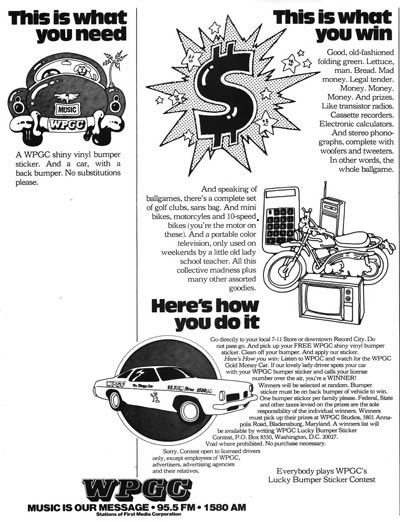 An insert from a Sales Kit from in 1973.
Text Reads:
This is what you need.

A WPGC shiny vinyl bumper sticker. And a car, with a back bumper. No substitutions please.

This is what you win.

Good, old-fashioned folding green. Lettuce, man. Bread. Mad money. Legal tender. Money, Money, Money. And prizes. Like transistor radios. Cassette recorders. Electronic calculators. And stereo phonographs, complete with woofers and tweeters. In other words, the whole ballgame.

And speaking of ballgames, there's a complete set of golf clubs, sans bag. And mini bikes, motorcycles and 10 speed bicycles (you're the motor on these). And a portable color television, only used on weekends by a little old lady school teacher. All this collective madness plus many other assorted goodies.

Here's How You do It.

Go directly to your local 7-Eleven Store or downtown Record City. Do not pass go. And pick up your FREE WPGC shiny vinyl bumper sticker. Clean off your bumper. And apply our sticker. Here's How you win: Listen to WPGC and watch for the WPGC Gold Money Car. If our lovely lady driver spots your car with your WPGC bumper sticker and calls your license number over the air, you're a WINNER! Winners will be selected at random. Bumper sticker must be on back bumper of vehicle to win. One bumper sticker per family please. Federal, State and other taxes levied on the prizes are the sole responsibility of the individual winners. Winners must pick up their prizes at WPGC Studios, 5801 Annapolis Road, Bladensburg, Maryland. A winners list will be available by writing WPGC Lucky Bumper Sticker Contest, P.O. Box 8550, Washington, D.C. 20027. Void where prohibited. No purchase necessary. Sorry, contest open to licensed drivers only, except employees of WPGC, advertisers, advertising agencies and their families.

Everybody plays WPGC's Lucky Bumper Sticker Contest.

Sound Files

Promos

Small Print Dept.: This non-profit historical site is not affiliated in any way with WPGC Radio today or CBS Radio, Inc. Use of copyrighted material is consistent with the "fair use" provisions contained in §107 of the Copyright Act of 1976 due to the following characteristics: Use of copyrighted material is of a nonprofit, educational nature, intended for the sole purposes of research and comment and does not significantly negatively affect "the potential market for or value of the copyrighted work(s)." Use of registered trademark material is not subject to civil action or injunction as outlined in §1114 and §1125 of the Trademark Act of 1946 (the Lanham Act) due to the following characteristics of this work, and the registered marks published herein: Use of reproductions of registered marks is not for the purpose of commerce, nor is the use connected with the sale, offering for sale, or advertising of any goods or services. Use of reproductions is not likely to cause confusion, mistake, or deception as to the affiliation, connection, or association of this work with owners of published registered marks, nor as to the origin, sponsorship, or approval of this work by owners of published registered marks. Wherever possible, the copyright or registered mark owner's name has been noted near the copyrighted work or registered mark; however, all material used in this site, including, but not limited to, newspaper articles, syndicated themes, promos, commercials, photographs, playlists, press releases, ratings, airchecks, newscasts, traffic reports, sports reports, 'sound-offs', sweepers, bumperstickers and station logos, should be considered protected copyrighted material or registered mark with all rights reserved to the owner, named or unnamed. So there!