Air Personalities
Morning Shows
News Guys
Money Girls
Program Directors
General Managers
Sales Types
Engineers
Other Alumni
The Good Guys Today
Radio Heaven
Alumni In The News
Alumni Speak!


A Brief History
Newspaper Articles
Print Advertisements
Press Releases
Ratings Like You Wish!
Weekly Playlists
Photos - People
Photos - Promotions
Station Logos
Bumperstickers




Airchecks
Newscasts
Sports Reports
Traffic Reports
Sound Offs!
Commercials
Promos
Sweepers
Jingles
Misc. Audio




Beatlemania
Collectibles
Contesting
Promotions
Sales Related
Engineering Stuff
WPGC Sister Stations
The Great Strike
Market Competition
Other Radio Tribute Sites
Oldies Stations Today
Legendary Air Performers
Special Thanks
Mailbag
Home

---
Server space provided by:
Click above to hear more vintage broadcast radio airchecks from the
Reel Radio Repository.
Your tax-deductible contribution to REELRADIO, Inc. will help keep this site online
---
This site is in no way affiliated with WPGC Radio today, or with
CBS Radio, Inc.

Click above to visit WPGC today.

Dedicated in memory of
Jim Collins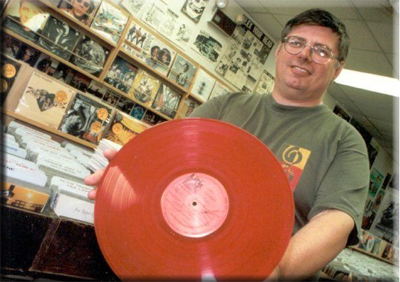 Skip Nelson at Yesterday & Today Records, Rockville.
'Skip Nelson' hosted the WPGC Sunday Night Oldies show in 1981-82.
He passed away on 02/18/19 at 70 after suffering a seizure.
Remembering WPGC's, 'Skip Nelson'......
It is with great sadness the news has arrived of the loss of WPGC's, 'Skip Nelson', better known in the music community as Skip Groff. By any name, Skip was the host of WPGC's Sunday Night Oldies Show, having inherited the hosting duties when original host, Scott Shannon left the station in 1981.

New Program Director at the time, Steve Kingston hired Skip, specifically for his vast knowledge of music as well as in recognition that it was Skip who had hired him for his first professional gig at WINX in Rockville many years before. That knowledge base also lent itself well to Skip having been hired as a reporter at one time for Bobby Poe's Pop Music Survey.

A native of Suitland, MD, Skip's adventure in broadcasting started at the University of Maryland's then carrier current, WMUC where he was Music Director and jocked as, 'Sam Doug'. Like many collegiate colleagues, he soon found himself transitioning to the larger radio universe at WSID-FM doing Underground Rock in Charm City (as, 'Doug Franklin') and then onto the Voice of Rockville Pike on 1600 AM as, 'Frankie Nelson', where he later returned as Program Director after getting out of the Army in the early '70's.

His interest in music went far beyond the limits of those who inhabited the Top 40 at any given moment however. After a stint doing Promotion at RCA, he managed Variety Records in Wheaton Plaza and later opened Yesterday & Today Records in 1977 in (wait for it.....) Rockville. The timing of the opening of the store may have been prophetic; coinciding with the then nascent Punk scene, it provided a convenient venue for record buyers in search of both local DC bands as well as those from the UK and beyond. In those years, he also founded Limp Records and produced local artists of that genre.

Music was not the only thing available for discovery in the store though. Skip met his wife of 31 years, Kelly when she was a customer of his. As vinyl seemed to be destined for relic of the past status, the two of them closed down retail operations after 25 years in 2002 and devoted their full energies to online ventures. Yesterday & Today lives on to this very day.

Following the change in format to AC at WPGC in the Fall of 1982, Skip left the station but would later resurface at WAVA, hosting, 'Rock of the Nineties'. With the launch of the WPGC Tribute Site in 2000, Skip was kind enough to contribute an article he had written as a high school student for his school's newspaper, the Suitland Echo. The story detailed his visit to WPGC in which he interviewed several of the personalities at the time including Harv Moore. The interview was conducted in December, 1965 and published on 01/12/66. Read it here.

Moving into more recent years, Skip was an active participant in this site, often adding comments about the station and personalities as well as adding insights about the music and artists the station played during his youth. Read his remembrances of WPGC below.

WTOP.com marked his passing with this retrospective piece. It was not the first time they had spotlighted Skip. On 07/21/17 they featured his influence on local music.

In 2018, Skip began suffering from health issues, leading to his hospitalization. Though he had been back home for a while, on 02/18/19, he suffered a seizure and sadly, passed away at age 70 at Medstar Montgomery Medical Center. No doubt, he is now perusing the record bins of a far grander collection in the sky......
As a teenager with acne growing up in PG County, I'm pretty sure it was required to listen to WPGC, though only AM at that time (only the Martians had FM in '64.) I never listened to the radio or rock music until the Beatles broke in early '64. WPGC helped open up my ears to a whole world I had been missing while collecting trading cards, comic books, and Famous Monsters Magazines.

On the 'British Walkers':

Early in 1965, WPGC brought the British Walkers to Marlboro Raceway in PG County. It was at the time of their first 45 on Try Records, 'I Found You' backed with 'Diddly Daddy'. Both sides featuring Roy Buchanan on guitar as a member of the group. Dean Griffith was the master of ceremonies and I seem to recall several other jocks there. It was a gas!!
On Interviewing the Staff at WPGC as a teen:
While working for the Suitland Echo High School newspaper as sports editor, I convinced Bob Howard to let me do a story on the station, figuring they would give me some free 45s when I visited, which they did. I interviewed Harv Moore, Tiger Bob Raleigh, Jim Madison and a couple others. Read the article.

On Harv Moore producing his record:

A couple months later, we had a group of students at Suitland cutting a demo as Adam's Apples, they later changed their name to Nobody's Children and Harv Moore produced their first 45 on UA, 'Junco Partner', and published the flip, 'Let Her Go' (written as I recall by Lee Travers from the band). Harv had already had a 45 out on his own on American Arts, a Beatle break-in novelty with him singing on the flip, called I Feel So Fine.

On the Radio Rollercaster:

As for me, two years later in 1966, I was Music Director at the University of Maryland's WMUC (for three years), went on to part-time at WSID-FM and WINX, and later became PD & MD & on-air at WINX after getting out of the Army. I became Steve Kingston's first on-air boss.

To digress a moment, Pierre Eaton was on a kick where he felt for name recognition the jocks should have similar names to Rock stars. When I first started there as a part-timer in 1968, then PD Bob Edson changed my WMUC name Sam Doug to Frankie Nelson.

The previous year, I worked as Doug Franklin at WSID-FM in Baltimore, with Dave King as PD / MD. He had just left WINX and wanted me to help get a progressive format on the air. Bob Duckman, who had worked with me at WMUC had worked at WINX with King and recommended me due to my musical knowledge. (I was music director all three years at WMUC, as well as Record Librarian, then Asst. PD (to John Dowling), then PD (supervising the hiring of Connie Chung for the news department).

Anyway, back to WSID, I started there Fall of '67. I did the 6pm-mid shift on Saturday, hung around the studio all day Sunday (I didn't have a drivers licence yet), did 6pm-midnight Sunday, then took a bus back to College Park, getting back to my dorm or building FF (WMUC) at 3 or 4 in the AM. I know I was working there the weekend Otis Redding died, and I think also when Bobby Kennedy died the following Spring, about 8 months or so.

UBC didn't keep that format long and went Top 40 as WLPL and I went to WINX as a weekender working with Joel Denver. We pretty much did Sundays between us (after all the Public Affairs crapola). By the time I got out of the Army in early '72, Edson was gone, Pierre had been PD, Bill Vickers was the MD / Engineer, and for some reason Pierre wanted to hire me as a three in one, Morning Drive, PD, and MD. All for $100 a week starting salary!!
On Steve Kingston & WINX:
I did that for awhile, but got tired real quick and hired someone else for mornings. I did mid-days, eventually ending up at 7-midnight again. That's where Kingston comes in. He was a high school pal of Harvey Fisher (Bruce Diamond, now Jack Diamond of MIX 107, maybe someday Neil Diamond, who knows??) His buddy Harvey had convinced Pierre to hire Steve as the station janitor, and although he rarely spoke and was very moody, he and I got along fine. He and Robbie Norton both loved sitting down at the end of the counter where interviewees sat and stare my ass off while I'd be talking on the phone to girls. They didn't like girls, at least at that time.

At this point, doing nights, I had created a concept called Heavy Metal Thunder, which was all hard rock after 7pm. Deep Purple, Black Sabbath, Amboy Dukes, Runaways, it all fit and WINX has never had better ratings then during that all too brief time. Occasionally, I would have something else to do and I originally put Steve on just playing the records, graduating to speaking and eventually to replacing me when I quit in '73 or '74 to go manage Variety Records in Wheaton Plaza. I'm pretty sure Big Don O'Bryan subbed once and played Eagles and such, and was not invited back.

I had built up a good crew before I left as PD, we had Terry Steele, Darius Pope, Sam Diego, and at one point, I passed on hiring Greaseman (he ended up at DC-101). One last WINX story. We had this wonderful listener who was mentally challenged but passionate about the station, Sue Ann Richardson. She listened to me when I was Frankie Nelson, and after the Army, I was Skip Nelson. She couldn't quite grasp why we sounded alike, so the guys told her Frankie was my brother, and he had gone in the army. For a couple of years, she would call, and always ask first, "How's your brother Frankie?" We had to keep the story alive; would have been cruel to do otherwise. As a result whenever I e-mail or talk to Kingston, he either calls me Sue Ann or Pierre.
On doing WPGC's Sunday Night Oldies Show:
Years later when Scott Shannon left WPGC for Q105 in Tampa and Steve took over in 1981, he brought me in on Sunday nights to play oldies at $50 an hour.

Later in the mid '80s, Flash Phillips got Mark St. John to hire me at WAVA doing Rock Of The '90s at $25 an hour. Now, I've closed my record store down after 25 years in Rockville, and Yesterday & Today Records is an internet / mail order function only. Though I'm hoping to get a gig at Metro Traffic at maybe $5 an hour. Good Times!!

Print Materials

Articles

1/12/66

(Special thanks to Skip Nelson for the above.)

Sound Files

Airchecks

7/04/82 - Sunday Night Oldies Show - 2:25

Small Print Dept.: This non-profit historical site is not affiliated in any way with WPGC Radio today or CBS Radio, Inc. Use of copyrighted material is consistent with the "fair use" provisions contained in §107 of the Copyright Act of 1976 due to the following characteristics: Use of copyrighted material is of a nonprofit, educational nature, intended for the sole purposes of research and comment and does not significantly negatively affect "the potential market for or value of the copyrighted work(s)." Use of registered trademark material is not subject to civil action or injunction as outlined in §1114 and §1125 of the Trademark Act of 1946 (the Lanham Act) due to the following characteristics of this work, and the registered marks published herein: Use of reproductions of registered marks is not for the purpose of commerce, nor is the use connected with the sale, offering for sale, or advertising of any goods or services. Use of reproductions is not likely to cause confusion, mistake, or deception as to the affiliation, connection, or association of this work with owners of published registered marks, nor as to the origin, sponsorship, or approval of this work by owners of published registered marks. Wherever possible, the copyright or registered mark owner's name has been noted near the copyrighted work or registered mark; however, all material used in this site, including, but not limited to, newspaper articles, syndicated themes, promos, commercials, photographs, playlists, press releases, ratings, airchecks, newscasts, traffic reports, sports reports, 'sound-offs', sweepers, bumperstickers and station logos, should be considered protected copyrighted material or registered mark with all rights reserved to the owner, named or unnamed. So there!