Air Personalities
Morning Shows
News Guys
Money Girls
Program Directors
General Managers
Sales Types
Engineers
Other Alumni
The Good Guys Today
Radio Heaven
Alumni In The News
Alumni Speak!


A Brief History
Newspaper Articles
Print Advertisements
Press Releases
Ratings Like You Wish!
Weekly Playlists
Photos - People
Photos - Promotions
Station Logos
Bumperstickers




Airchecks
Newscasts
Sports Reports
Traffic Reports
Sound Offs!
Commercials
Promos
Sweepers
Jingles
Misc. Audio




Beatlemania
Collectibles
Contesting
Promotions
Sales Related
Engineering Stuff
WPGC Sister Stations
The Great Strike
Market Competition
Other Radio Tribute Sites
Oldies Stations Today
Legendary Air Performers
Special Thanks
Mailbag
Home

---
Server space provided by:
Click above to hear more vintage broadcast radio airchecks from the
Reel Radio Repository.
Your tax-deductible contribution to REELRADIO, Inc. will help keep this site online
---
This site is in no way affiliated with WPGC Radio today, or with
CBS Radio, Inc.

Click above to visit WPGC today.

Dedicated in memory of
Jim Collins
Top 100 of 1980
(Special thanks to Walt Bailey for the audio above).
Jim Elliott started at WPGC in 1975 as midday man and Music Director. Previously, he had worked in the market doing late nights at crosstown competitor WRC. When NBC pulled the plug on that station with the debut of the ill-fated NIS, News & Information Service, Jim became Program Director at WEAM in Northern Virginia. When long time WPGC morning man, Harv Moore left the station to go to WYSL in Buffalo with former WPGC General Manager, Bob Howard, midday man, Columbus moved to mornings, creating an opening for middays.

Jim was one of the WPGC air personalities who faced being permanently replaced by station management in May of 1977 due to the Great Strike That Struck Out over rebroadcasting the jocks voices on the AM while they were heard live on the FM (seems trivial in the voice-tracked world we live in today). He elected to stay with the station after being offered mornings and was initially teamed up with News Guy, Don O'Day.

When Don left to return to First Media's sister station in Provo, Utah in 1978, the company brought in News Guy, Scott Woodside from their property in Atlanta, Z-93 (which WPGC Program Director, Dan Mason had programmed before leaving to go to Washington after the strike).

Elliott & Woodside enjoyed significant success from 1978 through early 1982, so much so that ABC made them a then staggering offer to jump ship and do mornings for its O&O, Q107. Remarkably, neither Elliott or Woodside had been under contract at WPGC!

Personal differences between the two eventually led to the split up of the pair. Jim Elliott went on to do mornings by himself at B106, then did middays at WAVA. Until recently he was a VP of Pop Promotion at Arista Records in New York. He is now involved in independent record promotion. Scott Woodside returned to Atlanta for mornings on Z-93 but has since left the business. Today he is President & CEO of the Platinum Pen Company in Atlanta.

As they had done the previous two New Year's Eves, this show was recorded ahead of time, this year counting down the Top 50 LP cuts of '80.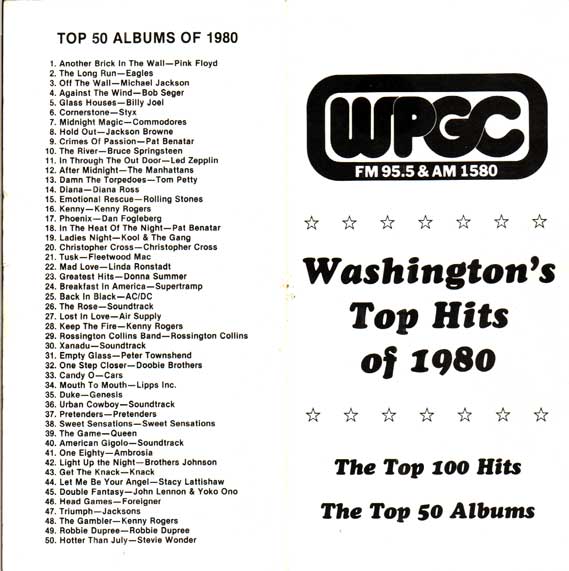 Small Print Dept.: This non-profit historical site is not affiliated in any way with WPGC Radio today or CBS Radio, Inc. Use of copyrighted material is consistent with the "fair use" provisions contained in §107 of the Copyright Act of 1976 due to the following characteristics: Use of copyrighted material is of a nonprofit, educational nature, intended for the sole purposes of research and comment and does not significantly negatively affect "the potential market for or value of the copyrighted work(s)." Use of registered trademark material is not subject to civil action or injunction as outlined in §1114 and §1125 of the Trademark Act of 1946 (the Lanham Act) due to the following characteristics of this work, and the registered marks published herein: Use of reproductions of registered marks is not for the purpose of commerce, nor is the use connected with the sale, offering for sale, or advertising of any goods or services. Use of reproductions is not likely to cause confusion, mistake, or deception as to the affiliation, connection, or association of this work with owners of published registered marks, nor as to the origin, sponsorship, or approval of this work by owners of published registered marks. Wherever possible, the copyright or registered mark owner's name has been noted near the copyrighted work or registered mark; however, all material used in this site, including, but not limited to, newspaper articles, syndicated themes, promos, commercials, photographs, playlists, press releases, ratings, airchecks, newscasts, traffic reports, sports reports, 'sound-offs', sweepers, bumperstickers and station logos, should be considered protected copyrighted material or registered mark with all rights reserved to the owner, named or unnamed. So there!