Air Personalities
Morning Shows
News Guys
Money Girls
Program Directors
General Managers
Sales Types
Engineers
Other Alumni
The Good Guys Today
Radio Heaven
Alumni In The News
Alumni Speak!

A Brief History
Newspaper Articles
Print Advertisements
Press Releases
Ratings Like You Wish!
Weekly Playlists
Photos - People
Photos - Promotions
Station Logos
Bumperstickers




Airchecks
Newscasts
Sports Reports
Traffic Reports
Sound Offs!
Commercials
Promos
Sweepers
Jingles
Misc. Audio




Beatlemania
Collectibles
Contesting
Promotions
Sales Related
Engineering Stuff
WPGC Sister Stations
The Great Strike
Market Competition
Other Radio Tribute Sites
Oldies Stations Today
Legendary Air Performers
Special Thanks
Mailbag
Home

---
Server space provided by:
Click above to hear more vintage broadcast radio airchecks from the
Reel Radio Repository.
Your tax-deductible contribution to REELRADIO, Inc. will help keep this site online
---
This site is in no way affiliated with WPGC Radio today, or with
CBS Radio, Inc.

Click above to visit WPGC today.

Dedicated in memory of
Jim Collins
07/28/73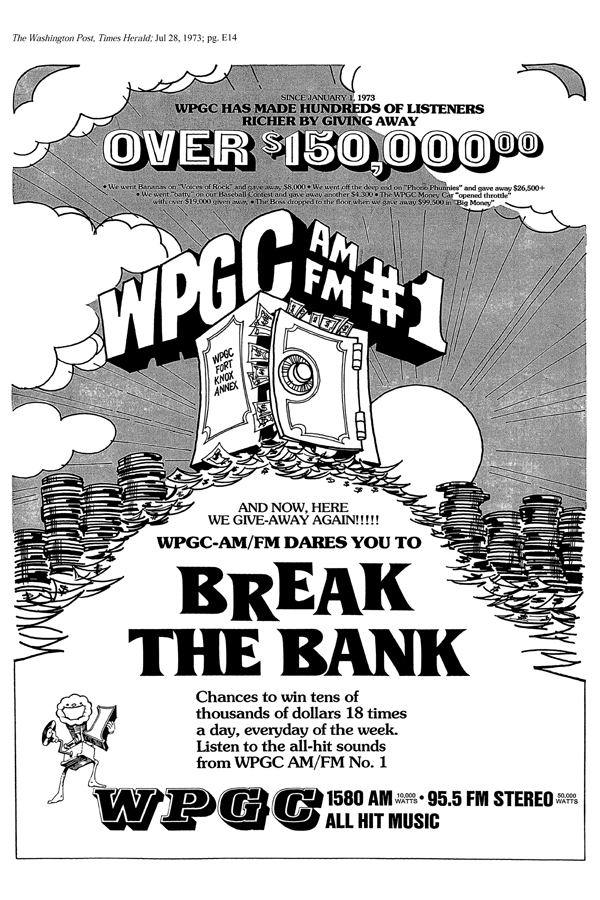 What does a station do when it comes under a full frontal assault by a market competitor bent on usurping your crown? Launch your own all-out, full-fledged assault and defend your turf! Never was that better demonstrated than in 1973 by WPGC GM, Bob Howard who spent literally thousands and thousands of dollars to protect WPGC's #1 ranking amongst contemporary stations.

Just a year before, market indicators were that RKO, no stranger with massively successful Top 40's in market after market was going to make a move against WPGC with a lean playlist, concise personalities and promotions that would command listener attention.

Combined with excellent dial position at 57 and 5K watts, their plan was to blow up Classical WGMS-AM in a calculated war with the Voice of Morningside. It was a battle never to happen however. Dazed & confused listeners thought WGMS-FM would also go away and successfully voiced such opposition to the change that RKO, already in hot water with the FCC, relented. Read more on Bob Howard.
In the void left by that decision, NBC had had enough on the losing end of the MOR battle with WMAL and thought they'd try their hand with Top 40 on WRC. Late in 1972, The Rock of the Capital debuted under respected Programmer, Lee Sherwood from WFIL. Saddled with Network commitments common to all O&O's along with the earlier than any other market rise of FM due in large measure to WPGC, the battle lasted only until 1975 before NBC pulled the plug and picked up the ill-fated News & Information Service (NIS).

The expected move of WRC's format to FM was a matter of just two weeks before the launch of Disco 93, WKYS. In the interim, Howard launched a barrage of huge dollar promotions (over $150,000.00 [$827,550.68 today, adjusted for inflation] had been given away since 01/01/73 alone) designed to sway fickle Teens and Adults alike from abandoning the ship. The latest of these was, 'Break the Bank' as seen in a full page ad in the Washington Post today in 1973.

BoHo had good reason to protect the interests of the station as well as those of his own. When WPGC owner, Max Richmond passed away suddenly late in 1971, his estate began the process of liquidation. Howard's claim of Right of First Refusal however put a monkey wrench in that effort. Hoping to purchase the station himself, and with the authority in the meantime to spend virtually whatever amount he wanted to keep the station on top, his plan backfired when the value of WPGC reached such proportions (a then record setting, $5.8 million) that he could not match the much deeper pockets of the Marriott brothers who bought the property in 1974.

Howard's sheer-minded determination however to fend off WRC was a lesson First Media should have learned from but failed to in 1979 when ABC came after WPGC with Q107. Instead of rolling over and playing dead with the change in format to AC in 1982, a redux of the skirmish from 'Mr. Sound Off's' tenure would have prevented the death of the goose that laid the golden eggs.

Small Print Dept.: This non-profit historical site is not affiliated in any way with WPGC Radio today or CBS Radio, Inc. Use of copyrighted material is consistent with the "fair use" provisions contained in §107 of the Copyright Act of 1976 due to the following characteristics: Use of copyrighted material is of a nonprofit, educational nature, intended for the sole purposes of research and comment and does not significantly negatively affect "the potential market for or value of the copyrighted work(s)." Use of registered trademark material is not subject to civil action or injunction as outlined in §1114 and §1125 of the Trademark Act of 1946 (the Lanham Act) due to the following characteristics of this work, and the registered marks published herein: Use of reproductions of registered marks is not for the purpose of commerce, nor is the use connected with the sale, offering for sale, or advertising of any goods or services. Use of reproductions is not likely to cause confusion, mistake, or deception as to the affiliation, connection, or association of this work with owners of published registered marks, nor as to the origin, sponsorship, or approval of this work by owners of published registered marks. Wherever possible, the copyright or registered mark owner's name has been noted near the copyrighted work or registered mark; however, all material used in this site, including, but not limited to, newspaper articles, syndicated themes, promos, commercials, photographs, playlists, press releases, ratings, airchecks, newscasts, traffic reports, sports reports, 'sound-offs', sweepers, bumperstickers and station logos, should be considered protected copyrighted material or registered mark with all rights reserved to the owner, named or unnamed. So there!