Air Personalities
Morning Shows
News Guys
Money Girls
Program Directors
General Managers
Sales Types
Engineers
Other Alumni
The Good Guys Today
Radio Heaven
Alumni In The News
Alumni Speak!


A Brief History
Newspaper Articles
Print Advertisements
Press Releases
Ratings Like You Wish!
Weekly Playlists
Photos - People
Photos - Promotions
Station Logos
Bumperstickers




Airchecks
Newscasts
Sports Reports
Traffic Reports
Sound Offs!
Commercials
Promos
Sweepers
Jingles
Misc. Audio




Beatlemania
Collectibles
Contesting
Promotions
Sales Related
Engineering Stuff
WPGC Sister Stations
The Great Strike
Market Competition
Other Radio Tribute Sites
Oldies Stations Today
Legendary Air Performers
Special Thanks
Mailbag
Home

---
Server space provided by:
Click above to hear more vintage broadcast radio airchecks from the
Reel Radio Repository.
Your tax-deductible contribution to REELRADIO, Inc. will help keep this site online
---
This site is in no way affiliated with WPGC Radio today, or with
CBS Radio, Inc.

Click above to visit WPGC today.

Dedicated in memory of
Jim Collins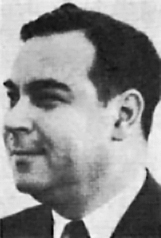 Max Richmond in 1960
Maxwell (Mac) Evans Richmond was the owner of an advertising firm in Philadelphia. Soon after the sign-on of WPGC on April 24, 1954, he approached owner, Harry Hayman about the possibility of buying the station. Hayman, an engineer had no background with radio advertising and agreed on November 10th, 1954 to go into partnership with Richmond for the sum of $10,000, forming, 'WPGC, Inc.' and leaving him in charge of generating revenue for the station. Richmond would subsequently buy the remaining interest in the station outright on 06/13/55 for $19,000.

On 06/27/55, just over a year since WPGC's sign-on and little more than two years since beginning the process of license application, Hayman's decision to cut his losses was finalized, filing an application with the FCC for Consent of Transfer of Control to Richmond, citing the Special Education needs of one of his children and a posible move to New Jersey for that reason. FCC approval arrived on 07/18/55.

Late in 1956, the Chesapeake Broadcasting Company sold WRNC-FM (formerly, WBUZ-FM) to WPGC, Inc. $5.00 was paid for the station license and $10,000 for its equipment and tower. FCC approval took place on November 20th, 1956. The purchase was made to add nightime programming to WPGC-AM's daytime only operation.

Max Richmond became President of WRNC-FM and named Gene Winters, (General Manager of WPGC-AM) as GM of WRNC-FM. WRNC-FM changed call letters to WPGC-FM in mid-March 1958.

In 1959, Richmond transfered Winters to manage his station in Henderson, Nevada outside of Las Vegas, KBMI, and hired new General Manager, Bob Howard to run WPGC, allowing himself more time to devote to his ad agency in Philadelphia as well as attend to his radio property in Boston, WMEX.

Richmond died in 1971. His estate received FCC approval on August 7th, 1974 to sell WPGC-AM & FM for $5.8 million to First Media Corporation (Richard E. Marriott, Chairman & 44% owner). The transaction was finalized on October 17, 1974. Although discussion between the parties initially also included the possible sale of WMEX, First Media withdrew it's offer after lengthy negotiations for the station, perhaps as a ploy to expediate the sale of WPGC.

Pat McCoy writes:

Max Richmond was an even more difficult man to work for than Bob Howard. Max would come down from Boston and harass everyone, Bob the most, of course. He had an office hidden away in the back of a bunch of file cabinets and partitions. He loved to pick up his phone and listen to everyone's phone calls, sometimes butting in, but most often just listening. I never heard him make a positive comment to anyone.

BD Howard writes:

I remember Max Richmond and many of the employees of the day. All were quite cordial to the VP/GM's (Bob Howard's) young kid, although some were friendlier than others. I remember that Richmond never married, but that he had two girlfriends (hideous old broads IMHO). Apparently, neither one knew about the other so, as a kid, I was coached whenever I was to encounter one - this one's name and that I was NOT to mention the other one!

Miscellaneous Audio

Small Print Dept.: This non-profit historical site is not affiliated in any way with WPGC Radio today or CBS Radio, Inc. Use of copyrighted material is consistent with the "fair use" provisions contained in §107 of the Copyright Act of 1976 due to the following characteristics: Use of copyrighted material is of a nonprofit, educational nature, intended for the sole purposes of research and comment and does not significantly negatively affect "the potential market for or value of the copyrighted work(s)." Use of registered trademark material is not subject to civil action or injunction as outlined in §1114 and §1125 of the Trademark Act of 1946 (the Lanham Act) due to the following characteristics of this work, and the registered marks published herein: Use of reproductions of registered marks is not for the purpose of commerce, nor is the use connected with the sale, offering for sale, or advertising of any goods or services. Use of reproductions is not likely to cause confusion, mistake, or deception as to the affiliation, connection, or association of this work with owners of published registered marks, nor as to the origin, sponsorship, or approval of this work by owners of published registered marks. Wherever possible, the copyright or registered mark owner's name has been noted near the copyrighted work or registered mark; however, all material used in this site, including, but not limited to, newspaper articles, syndicated themes, promos, commercials, photographs, playlists, press releases, ratings, airchecks, newscasts, traffic reports, sports reports, 'sound-offs', sweepers, bumperstickers and station logos, should be considered protected copyrighted material or registered mark with all rights reserved to the owner, named or unnamed. So there!