Air Personalities
Morning Shows
News Guys
Money Girls
Program Directors
General Managers
Sales Types
Engineers
Other Alumni
The Good Guys Today
Radio Heaven
Alumni In The News
Alumni Speak!


A Brief History
Newspaper Articles
Print Advertisements
Press Releases
Ratings Like You Wish!
Weekly Playlists
Photos - People
Photos - Promotions
Station Logos
Bumperstickers




Airchecks
Newscasts
Sports Reports
Traffic Reports
Sound Offs!
Commercials
Promos
Sweepers
Jingles
Misc. Audio




Beatlemania
Collectibles
Contesting
Promotions
Sales Related
Engineering Stuff
WPGC Sister Stations
The Great Strike
Market Competition
Other Radio Tribute Sites
Oldies Stations Today
Legendary Air Performers
Special Thanks
Mailbag
Home

---
Server space provided by:
Click above to hear more vintage broadcast radio airchecks from the
Reel Radio Repository.
Your tax-deductible contribution to REELRADIO, Inc. will help keep this site online
---
This site is in no way affiliated with WPGC Radio today, or with
CBS Radio, Inc.

Click above to visit WPGC today.

Dedicated in memory of
Jim Collins
Chart Notes: The Beatles top the WPGC chart with 'I Want To Hold Your Hand' staying at #1 while 'She Loves You' debuts at #2, both of which would go on to be the #1 and #2 songs of the year respectively on the WPGC Top 100 of 1964. Curiously, the latter of the two doesn't even show up on any other DC area station, although WEEL still is airing 'I Saw Her Standing There' which remains at #10.

While Milt Grant's Network, WEEL, WDON and WWDC all rank the Beatles at #1, WEAM and WINX continue to buck the tidal wave (if not the Tidal Basin) that is Beatlemania with no songs by the Fab Four listed in the Top Ten for the second week in a row!!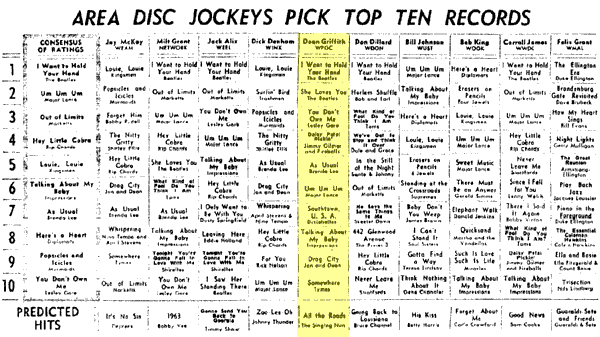 LW
TW
Song Title
Artist Name

1

1

I Want To Hold Your Hand

-

2

She Loves You

2

3

You Donít Own Me

Lesley Gore

3

4

Daisy Petal Pickin'

Jimmy Gilmer & The Fireballs

4

5

As Usual

Brenda Lee

6

6

Um, Um, Um, Um, Um, Um

Major Lance

9

7

Southtown U.S.A.

Dixiebelles

-

8

Talking About My Baby

Impressions

8

9

Drag City

Jan & Dean

-

10

Somewhere

Tymes

Predicted

All The Roads

Singing Nun
Special thanks to Jack Maier for the above.

Small Print Dept.: This non-profit historical site is not affiliated in any way with WPGC Radio today or CBS Radio, Inc. Use of copyrighted material is consistent with the "fair use" provisions contained in §107 of the Copyright Act of 1976 due to the following characteristics: Use of copyrighted material is of a nonprofit, educational nature, intended for the sole purposes of research and comment and does not significantly negatively affect "the potential market for or value of the copyrighted work(s)." Use of registered trademark material is not subject to civil action or injunction as outlined in §1114 and §1125 of the Trademark Act of 1946 (the Lanham Act) due to the following characteristics of this work, and the registered marks published herein: Use of reproductions of registered marks is not for the purpose of commerce, nor is the use connected with the sale, offering for sale, or advertising of any goods or services. Use of reproductions is not likely to cause confusion, mistake, or deception as to the affiliation, connection, or association of this work with owners of published registered marks, nor as to the origin, sponsorship, or approval of this work by owners of published registered marks. Wherever possible, the copyright or registered mark owner's name has been noted near the copyrighted work or registered mark; however, all material used in this site, including, but not limited to, newspaper articles, syndicated themes, promos, commercials, photographs, playlists, press releases, ratings, airchecks, newscasts, traffic reports, sports reports, 'sound-offs', sweepers, bumperstickers and station logos, should be considered protected copyrighted material or registered mark with all rights reserved to the owner, named or unnamed. So there!