Air Personalities
Morning Shows
News Guys
Money Girls
Program Directors
General Managers
Sales Types
Engineers
Other Alumni
The Good Guys Today
Radio Heaven
Alumni In The News
Alumni Speak!


A Brief History
Newspaper Articles
Print Advertisements
Press Releases
Ratings Like You Wish!
Weekly Playlists
Photos - People
Photos - Promotions
Station Logos
Bumperstickers




Airchecks
Newscasts
Sports Reports
Traffic Reports
Sound Offs!
Commercials
Promos
Sweepers
Jingles
Misc. Audio




Beatlemania
Collectibles
Contesting
Promotions
Sales Related
Engineering Stuff
WPGC Sister Stations
The Great Strike
Market Competition
Other Radio Tribute Sites
Oldies Stations Today
Legendary Air Performers
Special Thanks
Mailbag
Home

---
Server space provided by:
Click above to hear more vintage broadcast radio airchecks from the
Reel Radio Repository.
Your tax-deductible contribution to REELRADIO, Inc. will help keep this site online
---
This site is in no way affiliated with WPGC Radio today, or with
CBS Radio, Inc.

Click above to visit WPGC today.

Dedicated in memory of
Jim Collins
Chart Notes: As new material is released, the Beatles score another trifeca with all three of the top slots at WPGC. 'I'll Be Back' originally was found as the last track on the second side of the UK version of the 'A Hard Day's Night' album. The song however was left off the US version of 'A Hard Day's Night' and didn't appear on any US album until 'Beatles '65', released 12/15/64. It debuts in the Top Ten this week at WPGC at #1!

The Beatles fourth UK album, 'Beatles For Sale' came out in time for Christmas on 12/04/64. Roughly half of the cuts on it (almost exclusively from the first side) made their way onto its US counterpart, the aforementioned, 'Beatles '65' eleven days later. Among these was, 'I'm A Loser', which debuts in the Top Ten at WPGC this week at #2.

The bulk of the remaining cuts from 'Beatles For Sale' would be used on the next US release by Capitol, 'Beatles VI', released six months later on 06/14/65. Included in these was, 'Kansas City' (more accurately, 'Medley: Kansas City / Hey Hey Hey Hey'), which rounded out the triple play, debuting at #3 this week at WPGC.

It is unknown how WPGC had access to these songs so early. Notice below that no other DC area stations were playing any of them at the time. Whatsmore, none of these songs would appear in the Top Ten on any other DC area station for at least another month. After the mind blowing onslaught of Beatlemania earlier in 1964, it is incomprehensible they wouldn't be playing them if they had access to them.

'I'll Be Back' and 'I'm A Loser' would not come out officially for another two months. Likewise, 'Kansas City' would not be available to the American record buying public for another 10 months. None of these songs appeared as B-sides on other Beatles singles. A possible explanation might be record label personnel arranging to bring in new Beatles product from overseas before the official release in the US.

Meanwhile, previously released Fab Four tuneage continues to enjoy air play at other stations around the DC dial this week with 'Matchbox' from the 'Something New' album on Capitol moving up from #10 - #8 at WINX, while Lennon & McCartney's song writing credit with 'From A Window', the third consecutive hit written by them for Billy J. Kramer with the Dakotas, rises a notch from #3 - #2 this week at WHMC.

Harv Moore writes:

(WPGC Program Director) Dean Griffith (Dean Anthony) was very highly regarded by record company representatives. He was first to play new releases, and he broke a lot of records out of D.C. He had an amazing ear. Consequently he received a lot of "special attention" from the record companies, and was able to procure a lot of "unavailable" material. I'm sure the Program Directors and Music Directors from the other D.C. stations were scratching their heads when they saw the Evening Star Top Ten, wondering "how in the heck did he get those (Beatles songs ahead of everyone else)?"

Re: the Beatles, I have read in several books the account of their first U.S. concert at the Washington Coliseum as to who was on the bill with them. They listed
The Chiffons and Tommy Roe. A fellow DJ friend (and Beatlemaniac) had given me an "original" poster from the show, with The Chiffons and Tommy Roe listed as the opening acts. I knew this was wrong because the opening acts were Jay & The Americans and The Righteous Brothers and The Caravelles. I know, because I talked to them in the stands on the afternoon of the show.

What happened was, as we all know, there was a blizzard on the East coast, and the Beatles had to take the train from NYC to DC, instead of flying. The Chiffons and Tommy Roe couldn't make it in, so they had to get some last-minute opening acts. Several years ago on the anniversary of the Beatles show, I had Kenny Vance of Jay & The Americans on the air with me by phone, and he verified this.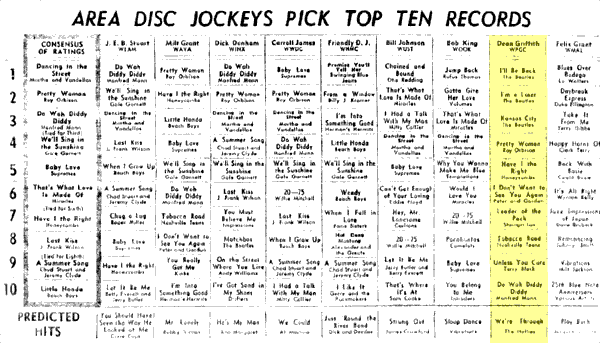 LW
TW
Song Title
Artist Name

-

1

I'll Be Back

-

2

I'm A Loser

-

3

Medley: Kansas City / Hey Hey Hey Hey

1

4

Oh, Pretty Woman

Roy Orbison

7

5

Have I The Right

Honeycombs

8

6

I Don't Want To See You Again

Peter & Gordon

-

7

Leader Of The Pack

Shangri-Las

5

8

Tobacco Road

Nashville Teens

-

9

Unless You Care

Terry Black

10

10

Do Wah Diddy Diddy

Manfred Mann

Predicted

We're Through

Hollies
Special thanks to Jack Maier for the above.

Small Print Dept.: This non-profit historical site is not affiliated in any way with WPGC Radio today or CBS Radio, Inc. Use of copyrighted material is consistent with the "fair use" provisions contained in §107 of the Copyright Act of 1976 due to the following characteristics: Use of copyrighted material is of a nonprofit, educational nature, intended for the sole purposes of research and comment and does not significantly negatively affect "the potential market for or value of the copyrighted work(s)." Use of registered trademark material is not subject to civil action or injunction as outlined in §1114 and §1125 of the Trademark Act of 1946 (the Lanham Act) due to the following characteristics of this work, and the registered marks published herein: Use of reproductions of registered marks is not for the purpose of commerce, nor is the use connected with the sale, offering for sale, or advertising of any goods or services. Use of reproductions is not likely to cause confusion, mistake, or deception as to the affiliation, connection, or association of this work with owners of published registered marks, nor as to the origin, sponsorship, or approval of this work by owners of published registered marks. Wherever possible, the copyright or registered mark owner's name has been noted near the copyrighted work or registered mark; however, all material used in this site, including, but not limited to, newspaper articles, syndicated themes, promos, commercials, photographs, playlists, press releases, ratings, airchecks, newscasts, traffic reports, sports reports, 'sound-offs', sweepers, bumperstickers and station logos, should be considered protected copyrighted material or registered mark with all rights reserved to the owner, named or unnamed. So there!