Air Personalities
Morning Shows
News Guys
Money Girls
Program Directors
General Managers
Sales Types
Engineers
Other Alumni
The Good Guys Today
Radio Heaven
Alumni In The News
Alumni Speak!


A Brief History
Newspaper Articles
Print Advertisements
Press Releases
Ratings Like You Wish!
Weekly Playlists
Photos - People
Photos - Promotions
Station Logos
Bumperstickers




Airchecks
Newscasts
Sports Reports
Traffic Reports
Sound Offs!
Commercials
Promos
Sweepers
Jingles
Misc. Audio




Beatlemania
Collectibles
Contesting
Promotions
Sales Related
Engineering Stuff
WPGC Sister Stations
The Great Strike
Market Competition
Other Radio Tribute Sites
Oldies Stations Today
Legendary Air Performers
Special Thanks
Mailbag
Home

---
Server space provided by:
Click above to hear more vintage broadcast radio airchecks from the
Reel Radio Repository.
Your tax-deductible contribution to REELRADIO, Inc. will help keep this site online
---
This site is in no way affiliated with WPGC Radio today, or with
CBS Radio, Inc.

Click above to visit WPGC today.

Dedicated in memory of
Jim Collins
Note: The (Washington) Sunday Star had published a listing of the Top Ten records from various radio stations in Metropolitan Washington as early as 1957. This was the first inclusion of WPGC's Top Ten song list as part of the 'Area Disc Jockeys Pick Top Ten Records' feature which appeared as a separate tabloid insert in the Teen section.

WPGC's Gene Winters began at WPGC - AM as Chief Engineer when the station signed on April 24th, 1954. By 1955, he became General Manager of the AM. In 1956 when WPGC-AM, Inc. purchased WBUZ-FM (by then, WRNC-FM), he was named General Manager of the FM also. From that time through March of 1960, he also did mornings at WPGC. Following his tenure at the voice of Morningside, he was transferred by station owner, Max Richmond to be the General Manager of WPGC's sister station in Las Vegas, KBMI. If anyone knows of his whereabouts today, please email the webmaster.

Milt Grant would later launch an early syndication effort with a radio show that ran Saturdays and Sundays from 1-4PM simultaneously on WPGC, WAVA, WINX and WEEL. The listing below was actually his television show that aired on Channel 5 from 1956 - 1961.

WARL listed in the far left column below later became WAVA-AM. WPIK in the far right column would eventually become the AM side of KIX Country.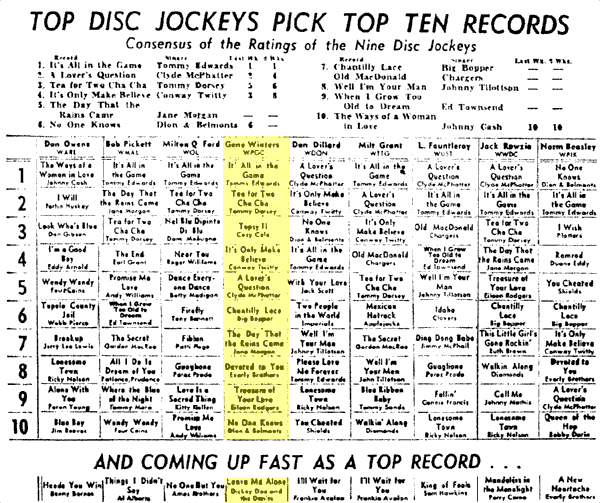 | | | |
| --- | --- | --- |
| TW | Song Title | Artist Name |
| 1 | It's All In The Game | Tommy Edwards |
| 2 | Tea For Two Cha Cha | Tommy Dorsey Orchestra |
| 3 | Topsy II | Cozy Cole |
| 4 | It's Only Make Believe | Conway Twitty |
| 5 | A Lover's Question | Clyde McPhatter |
| 6 | Chantilly Lace | Big Bopper |
| 7 | The Day That The Rains Came | Jane Morgan |
| 8 | Devoted To You | Everly Brothers |
| 9 | Treasures Of Your Love | Eileen Rogers |
| 10 | No One Knows | Dion & The Belmonts |
| Predicted | Leave Me Alone (Let Me Cry) | Dicky Doo & The Don'ts |
Special thanks to Jack Maier for the above.

Small Print Dept.: This non-profit historical site is not affiliated in any way with WPGC Radio today or CBS Radio, Inc. Use of copyrighted material is consistent with the "fair use" provisions contained in §107 of the Copyright Act of 1976 due to the following characteristics: Use of copyrighted material is of a nonprofit, educational nature, intended for the sole purposes of research and comment and does not significantly negatively affect "the potential market for or value of the copyrighted work(s)." Use of registered trademark material is not subject to civil action or injunction as outlined in §1114 and §1125 of the Trademark Act of 1946 (the Lanham Act) due to the following characteristics of this work, and the registered marks published herein: Use of reproductions of registered marks is not for the purpose of commerce, nor is the use connected with the sale, offering for sale, or advertising of any goods or services. Use of reproductions is not likely to cause confusion, mistake, or deception as to the affiliation, connection, or association of this work with owners of published registered marks, nor as to the origin, sponsorship, or approval of this work by owners of published registered marks. Wherever possible, the copyright or registered mark owner's name has been noted near the copyrighted work or registered mark; however, all material used in this site, including, but not limited to, newspaper articles, syndicated themes, promos, commercials, photographs, playlists, press releases, ratings, airchecks, newscasts, traffic reports, sports reports, 'sound-offs', sweepers, bumperstickers and station logos, should be considered protected copyrighted material or registered mark with all rights reserved to the owner, named or unnamed. So there!