Air Personalities
Morning Shows
News Guys
Money Girls
Program Directors
General Managers
Sales Types
Engineers
Other Alumni
The Good Guys Today
Radio Heaven
Alumni In The News
Alumni Speak!


A Brief History
Newspaper Articles
Print Advertisements
Press Releases
Ratings Like You Wish!
Weekly Playlists
Photos - People
Photos - Promotions
Station Logos
Bumperstickers




Airchecks
Newscasts
Sports Reports
Traffic Reports
Sound Offs!
Commercials
Promos
Sweepers
Jingles
Misc. Audio




Beatlemania
Collectibles
Contesting
Promotions
Sales Related
Engineering Stuff
WPGC Sister Stations
The Great Strike
Market Competition
Other Radio Tribute Sites
Oldies Stations Today
Legendary Air Performers
Special Thanks
Mailbag
Home

---
Server space provided by:
Click above to hear more vintage broadcast radio airchecks from the
Reel Radio Repository.
Your tax-deductible contribution to REELRADIO, Inc. will help keep this site online
---
This site is in no way affiliated with WPGC Radio today, or with
CBS Radio, Inc.

Click above to visit WPGC today.

Dedicated in memory of
Jim Collins

'Bob Peyton' was a house DJ name at WPGC. Below is a chronology of who used the name and when.
Bob Allen (aka Russ Wheeler)
The first to use the name briefly was Bob Allen (aka Russ Wheeler) for only 30 days in March of 1967. He came to WPGC from KDKA / Pittsburgh where he was the Production Director but had previously worked in Washington at WEAM, where he returned after leaving WPGC. He later worked in Philadelphia and had an extensive career in Baltimore.

Bob Burian

From April 3, 1967 to March 31, 1969 Bob Burian next used the name. He came to WPGC from WILS / Lansing and was hired for middays by Program Director, Warren Duffy. He returned to Michigan late in 1969.

Dave McKay

Finally, Dave McKay used the name as a part time jock but used his real name when he was promoted to full time. See the 'House DJ Names' page for more information. If anyone knows of the whereabouts of Dave McKay, please e-mail the webmaster.
Cousin Warren Duffy writes:
From the upper Michigan peninsula, I hired a DJ (Bob Burian) and since Peyton Place was such a big hit TV show at the time, we changed the guy's name to Bob Peyton - he did our mid-days.

Dave Ayers adds:

I believe that there was actually 3 different Bob Peytons. The first one was only on for a few shifts, perhaps Bob Burian did not arrive on time as they were heavily promoting the new show, but the first Bob Peyton show was done by a jock who had recently been on WEAM using the name of Russ Wheeler.

Roddy Freeman contributes:

One of the 'Bob Peytons' was Bob Allen. His real name, I was told back then, was Bob Alianiello.

He left WPGC for WEAM and after working in Philadelphia, eventually became morning man at WCAO in Baltimore, using the name Robert C. Allen III. I guess he lost his job at WCAO at some point because he turned up as the morning man on WLPL, Baltimore's first FM top-40 station, owned by United Broadcasting (Richard Eaton).

He then hit it big and did middays at WBAL-AM in Baltimore. After that, he kind of disappeared (although I had moved away so I'm not sure where he was). The next time I heard him was around 1992 (I was back in town), when he replaced Johnny Dark on a Saturday night '70's show on Mix 106.5 in Baltimore. That lasted for a week or 2 because the station decided to go with a syndicated show in that slot.

He then appeared on the very short-lived 1360-AM's classified jobs "format." He read job listings like the rest of the staff. (I like innovation.)

When I was visiting Baltimore a year ago, he was doing weekends at WWLG-Legends 1370 (they moved from 1360), which plays standards of the Sinatra ilk. He was calling himself RCA (Robert C. Allen).

Coincidentally, another 'Bob Peyton', also left WPGC to go to WCAO. I never knew his real name, but he went by Dave McKay on WCAO and did 10PM - 2AM

He left WCAO in the mid-seventies on the day that both he and afternoon drive jock Brother Jack Sheridan were convicted of statutory rape. The case was well-publicized, but the station didn't fire them until they were convicted.

Bob Burian writes:
OK, so here I am a 65 year old former disk jockey with nothing to do one evening, so I Google myself and what do I find? I find that I was at one time semi famous in DC. Actually I really got a kick out of remembering some WPGC times, people and, of course, music from the late 60's.

Here is some info about the station and the market from my days at WPGC from April 3, 1967 to March 31, 1969:

I was hired by Program Director, Warren Duffy and (General Manager), Bob Howard to do the 10 AM - 2 PM shift. They said my name was now "Bob Peyton" and they even had a jingle with my new name to prove it. I said "man, these people work fast" . . . a personalized jingle on the first day I get into town!

Well, then I found out that my predecessor (Bob Allen) was actually a Bob Peyton too, as was my successor (Dave McKay) 2 years later. The jingles never went out of style. After several months at the station, Cousin Duffy named me Music Director in addition to my mid-day airshift. By the way, when I arrived Duffy and Howard thought the way to mid-day ratings riches would be to do an "every-other-record-gold" format. They were right! After a few months the 10 AM - 2PM slot was #1 (of ALL stations in the market) in the Pulse. That led to the entire station going to the same format and producing huge ratings.

I came to DC from Lansing, Michigan station WILS. I later learned that Marv "Marvelous Marv" Brooks had also spent time in Lansing while a student at Michigan State. (I am saddened to hear of Marv's passing.) Let me tell you, as a kid from the midwest, I thought I really had hit the big time at 'PGC. It truly was one of the GREAT SOUNDING stations of the '60's.

Harv Moore was the Morning Mayor and was sensational, I came next on mid-days, and then one of the greatest high energy radio talents, programmers and promoters of top-40 radio history followed me . . . Cousin Warren Duffy. Nobody, but nobody had the on-air energy and presence he had. He "owned" the top 40 market in DC. "JA the DJ" (Jack Alix) had his own inimitable show, and when we went 24 hours, Bob Howard's jock naming skills surfaced again with Handy Andy and Famous Amos.

After Cousin Duffy took a quick exit bound for the Virgin Islands, Charlie Schue replaced him as Program Director and afternoon drive jock. Things weren't the same, and I resigned at the end of March 1969 to do freelance voiceovers before moving back to northern Michigan in November of '69.

I continued in radio until 1984 when my entreprenuerial juices made me try to become a mogul in publishing, printing, marketing and advertising. A bout with cancer changed a lot of things in my life, and in 1998 I joined the fight against cancer by joining the staff of the American Cancer Society.

This website really brings back some great memories from the days of Captain Good Guy, Go Magazine, Hide The Picnic, Cousin Duffy at the Ambassador Theater and Casino Royale.

Hey, thanks for the memories. Good Guys Radio was really something special. I often have wondered whatever happended to Warren Duffy, Harv Moore, Bill Miller and Jack Alix. I hope they are all doing well and are happy.
Photos
#1 (Bob Allen)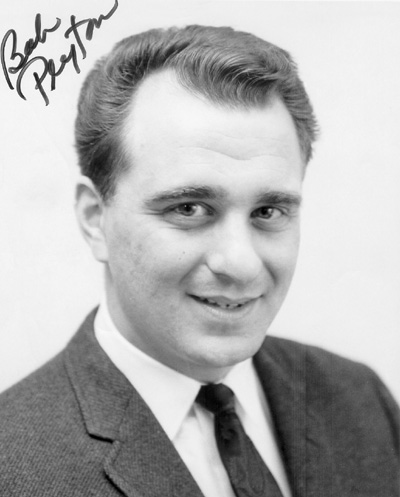 Bob Allen publicity headshot.
#2 (Bob Burian)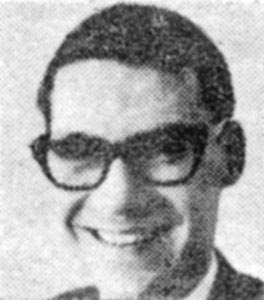 Bob Burian from about 1968.

Airchecks
#1 (Bob Allen)
#2 (Bob Burian)

Spots
#2 (Bob Burian)

Promos
#3 (Dave McKay)

Jingles
#3 (Dave McKay)
Special thanks to Jonathon Wolfert for the above).

Misc Audio
#2 (Bob Burian)

Small Print Dept.: This non-profit historical site is not affiliated in any way with WPGC Radio today or CBS Radio, Inc. Use of copyrighted material is consistent with the "fair use" provisions contained in §107 of the Copyright Act of 1976 due to the following characteristics: Use of copyrighted material is of a nonprofit, educational nature, intended for the sole purposes of research and comment and does not significantly negatively affect "the potential market for or value of the copyrighted work(s)." Use of registered trademark material is not subject to civil action or injunction as outlined in §1114 and §1125 of the Trademark Act of 1946 (the Lanham Act) due to the following characteristics of this work, and the registered marks published herein: Use of reproductions of registered marks is not for the purpose of commerce, nor is the use connected with the sale, offering for sale, or advertising of any goods or services. Use of reproductions is not likely to cause confusion, mistake, or deception as to the affiliation, connection, or association of this work with owners of published registered marks, nor as to the origin, sponsorship, or approval of this work by owners of published registered marks. Wherever possible, the copyright or registered mark owner's name has been noted near the copyrighted work or registered mark; however, all material used in this site, including, but not limited to, newspaper articles, syndicated themes, promos, commercials, photographs, playlists, press releases, ratings, airchecks, newscasts, traffic reports, sports reports, 'sound-offs', sweepers, bumperstickers and station logos, should be considered protected copyrighted material or registered mark with all rights reserved to the owner, named or unnamed. So there!